Gerry Farrell has recently written an article looking at the journey that Bayern have made over the years, going from the second choice club in their home city, to one of the current footballing monsters of our time. With Bayern having secured a record breaking 4th consecutive Bundesliga title last season, many fans feel that the club should have been eyeing a triple which they fell short on in their Champions League efforts. So, how has the club managed to create such high expectations of itself when previously they were no bigger than most German clubs?
Following the formation of Bayern in 1900, the club had enjoyed some successes relatively early on in the 1920s, winning some regional titles before winning he last national title of 1931-32 as the Third Reich took over the German sports system. Following this it was a whole 35 years before Bayern won anything else, spending most of this time in the shadow of fellow Munich side TSV 1860 München. In fact, the now much smaller club had actually been Bayern's landlords up until the second world war before the stadium was badly damaged in the conflict.
Over the years that followed, Bayern struggled in the German footballing world, eventually being promoted to the top flight of their domestic strife in 1965. In this season, however, the side won the German cup as well as finishing 3rd place in the league – respectable, but still behind Munich rival TSV 1860 München who won the competition that year.
It was not until the Beckenbauer years that Bayern really made a name for themselves.
It was really some fantastic transfer moves by the club that made them who they are today, with the likes of the German legend and many other club hero's who were also part of the World Cup winning squad of 1974 that went on to achieve great success with Bayern.
To find out more on this transition, the rest is in Farrell's article in more detail. It's really a great summary of the history of the club for those looking to brush up on their knowledge.
Before they were famous, part 2: Bayern Munich – from second fiddle to leading role
With ex-Bayern fan favourite Bastian Schweinsteiger announcing his retirement from international football and Manuel Neuer taking his place as German captain, Stuart Telford has taken a trip back in time, counting down Bayern Munich's top 5 most influential leaders ever.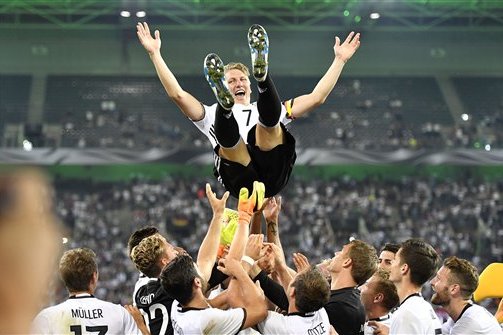 Bayern have contributed greatly into the talented German national side during their successes over the years, particularly when it comes to captaincy:
The most successful club in German football history, Bayern have contributed an abundance of leaders to the national team. Of the seven major honours Germany have won—four FIFA World Cups, three UEFA European Championships—all but two triumphs were captained by Bayern players past or present. Via bleacherreport.com
With the emotional farewell to such a brilliant servant of German football the other night, it seems a perfect time to reflect on some of the all time greats that have championed the Bavarian's to glory over the years.
To find out who made the list, Check out Telford's article here: Bayern Munich Captains: The Bavarians' 5 Most Influential Leaders | Bleacher Report
Image from bleacherreport.com
Lucimar Ferreira da Silva, or simply just Lúcio, is a name that comes to most people's minds when it comes to naming the top defensive players in recent years. The 35-year old became famous for his runs over the entire field in a attempt to help his teams. His aerial ability and the ability to start attacks from the back were especially noticeable during his five year stay with Bayern Munich.
Lúcio, who currently plays in his homeland of Brazil at Palmeiras São Paulo, was born on May 8th 1978. He began his career at Planaltina EC in 1995 before signing his professional contract with Internacional three years later.
Lucio: World Class
After spending two years at Internacional, Lúcio moved to the Bundesliga in January of 2001 for a reported transfer fee of €8.5 million. During his spell at Leverkusen, Lúcio established himself as a world-class defender and attracted interest from several top European clubs. However, it was a bittersweet first season in Europe for the Brazilian.
Leverkusen blew a five-point lead after losing two of the final three matches of the season, lost in the final of the German Cup 4-2 to Schalke 04 and finally lost in the Champions League final against Real Madrid 2-1. Lúcio did score in the final but it wasn't enough for Leverkusen who lost on all three fronts and finished the season without a trophy.
On the international level, Lúcio started off his Brazil career in 2000 as he played with the U-23 team at the Olympics in Sydney. He broke into  the senior squad just in time to be named to the World Cup 2002 squad. At the tournament in Japan and South Korea he played every minute for Brazil and was one of the key members of the World Cup winning team, earning praises from manager Luis Felipe Scolari.
A big move for Lucio
In 2004, after two more seasons at Leverkusen, Lúcio moved to Bayern Munich for a fee of €12 million after which he agreet to sign a six-year contract. He joined a Bayern team which was already filled with top defensive talents such as Robert Kovač, Valérien Ismaël and Daniel Van Buyten.
Lúcio enjoyed his time at Bayern and even captained the team on several occasions when Oliver Kahn was out. It was the most successful period of his career as he won three Bundesliga titles and one German Cup with the team. Always hailed as an example of how modern day defenders should act, Lúcio was a leader on the field with Bayern and a motivator for his team mates at every match. His tactical awareness gave him the opportunity to join the attack far more often as other defenders do nowadays.
During his time at Bayern he was one of the highest rated defenders in the World. At the World Cup in Germany 2006 he broke a unusual record for a defender of playing 386 consecutive minutes without committing a foul. Brazil reached the quarter-final and lost to France 1-0. After the tournament Brazilian coach Dunga gave him the captains armband.
Top of his game
After five successful years at Bayern it was time for him to move on. Then Bayern head coach Luis Van Gal did not have Lúcio in his long term plans and the Brazilian decided to leave. After 144 matches for Bayern he departed for Italy and signed a three year contract with Serie A side Inter Milan. At Inter he would go on to win the Champions League and a Italian Championship all in his first season with the team.
In the same year he left Bayern (2009) he captained Brazil to the Confederations Cup crown by scoring in the final against the United States. He also played an important role at the World Cup 2010 where Brazil reached the quarter-finals and lost to eventualy finalists Holland. His last match for Brazil was in September of 2011.
After a brief stay at Juventus where he played only one match, he returned to his homeland of Brazil in December of 2012 and is currently a member of Palmeiras São Paulo.
Images from genckolik.net
The Basque territory, located in the mountains between France and Spain, is the home of former French international star Bixente Lizarazu. Playing at the left-back position throughout his career, Lizarazu made a name for himself by playing most of his career at Bayern Munich.
Small but powerful
Lizarazu was born on December 9th, 1969 in Saint-Jean-de-Luz, France. The small framed Lizarazu, who was just 1.69m tall, started off his career at a small French club called Les Églantins Hendaye in 1977. He would stay there until his transfer to Bordeaux.
At first he was a member of the B-team for a couple of years, after which he signed a professional deal with the club. Prior to Lizarazu's promotion to the senior squad, Bordeaux were champions of France and French Cup winners in 1987.
The talented and pacey left-back quickly established himself as the key member of the Bordeaux squad even though the team finished a disappointing 13th in his first season with the team. Equally comfortable both in defence and in the attack, Lizarazu was a threat to any opposition.
Financial troubles relegated Lizarazu to the 2nd Divisionin 1991/92, but he stayed with the club and, together with new addition Zinedine Zidane, brought back the The Girondins to Ligue 1.
After a couple of solid seasons, Lizarazu reached the final of the UEFA Cup 1996 with Bordeaux. He captained the team in both legs against Bayern Munich and despite the team featuring talents like Zinedine Zidane and Christophe Dugarry they lost both legs to the Bavarians.
In 1995/96, Lizarazu who is a French-born Basque himself moved to play for Athletic Bilbao – a club with a strong Basque identity. He was the first ever non-Spanish Basque player to join the club which only features homegrown players. But after a disagreement with club manager Luis Fernandez, he decided to leave the club after only 16 matches and moved to Bayern Munich in 1997. Lizarazu later on described the move as the best one of his career.
A new start at Bayern
It wasn't the best of starts for the left-back at Bayern but soon after Italian coach Giovanni Trapattoni took over, he added the defensive discipline to Lizarazu's game which he was lacking before coming to Germany.
Together with his attacking flair and his new defensive capabilities, Lizarazu soon became a model full-back under Trapattoni's successor Ottmar Hitzfeld. During his first seven years with Bayern, he won four Bundesliga titles and three German Cups. He was also part of the team that won the Champions League in 2001, scoring one of the penalties against Valencia in the final.
Lizarazu also enjoyed success with the French national team. He was part of both the World Cup 1998 and UEFA Euro 2000 winning squads and won two additional Confederation Cups with his country making him one of the most successful French players of all time. Even though he only scored twice during his 97 caps for his country, he was a integral part during both championship runs.
Interestingly, he even played for the Basque national team on one ocassion. Although the team is not recognized by FIFA they are eligible to take part in non-competitive matches. Controversy struck in 2000 when Basque nationalist group ETA threatened Lizarazu and demanded cash from him over a "revolutionary tax".
As Lizarazu planned to end his career somewhere in France, combined with the departure of Bayern Munich coach Ottmar Hitzfeld, he decided to leave Bayern in 2004 and joined Olympique Marseille. Amidst rumors of misunderstanding with coach Philippe Troussier, Lizarazu moved back to Bayern where he would see out his career after one more season.
In a impressive club career at Bayern he earned six Bundesliga titles, five German Cups, five German League Cups, one Champions League and one Intercontinental Cup. He appeared in 182 Bundesliga matches and scored on 7 occasions.
After his playing days were over Lizarazu stayed active as a football analyst with French TV station Canal+. He is also part owner of Olympique Croix de Savoie 74 – a Third Division club in France. In 2009 he also got involved with  Brazilian Jiu-Jitsu where he became the European champion in the Blue Belt Senior 1 Light Division.
Images from wordpress.com, pinterest.com
One of the most titled players in German football was none other than Bernd Dürnberger. Durnberger was a versatile player who started off his celebrated career as a striker at the youth club of SV Kirchanschöring. His brief move and stay at ESV Freilassing left a lasting impression on Bayern Munich scouts. Dürnberger would finally sign a professional deal at Bayern Munich in 1972.
The road to success
Born on September 17th 1953, he was most dangerous from the left side wing-back position, but he rotated between a midfield position and a defensive role throughout his career.
Dürnberger made his Bundesliga debut one day before his birthday – on September 16th 1972, in the 1st round in an away match against Rot-Weiß Oberhausen. In his first two seasons at the club he played as a striker but without much success and goals scored he was eventually moved to the defence in 1975/76 after playing a season in the midfield.
He was one of those rare players who enjoyed a great deal of success with his club but never made it to the senior team of his nation. He is the only player alongside legendary Ajax goalkeeper Heinz Stuy with whom he shares the record for the most major titles won with his club without playing for the national team. In 1975/76 he was very close to making an appearance but a serious knee injury stopped him from doing so. Interestingly enough, he claimed on several occasions how he wasn't bothered by not playing for his country and how he had extra time to focus on his Bayern career.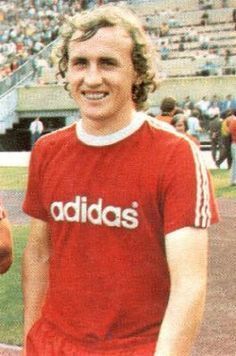 Durnberger's legacy
Alongside Bayern legends Franz Beckenbauer, Gerd Müller and Sepp Maier, he was part of the Golden Generation that won the European Champions Cup three times in a row during the 1970s. He described the 1975 victory over Leeds United in the final as the most difficult of the three titles they won.
One of the most remarkable things about Dürnberger was his discipline on the field. Even though he played a defensive midfield role, a position which usually gets players into constant yellow card danger, he only accumulated 12 yellow cards during 375 Bundesliga matches for Bayern and was never sent-off.
After a very successful 13 year career at Bayern and 11 major trophies won he retired after the 1984/1985 season. Overall he has appeared in 375 Bundesliga matches and scored 38 goals for Bayern.
Images from www.kicker.de, pesstatsdatabase.com
Sometimes life isn't fair and the case of former Bayern Munich goalkeeper Raimond Aumann proves that theory. Even though he was a six-time Bundesliga champion with his club and a World Cup winner with his country in 1990, Aumann's carer is mostly associated with only two matches – the one in Milan and the other in Belgrade.
How the competitive edge worked in Aumann's favor
Raimond Aumann was born in Augsburg on October 12th 1963. Like most players do, he started his career at his local club called SV Stadtwerke Augsburg where he stayed until 1980. After a brief stay at FC Augsburg he would eventually transfer to Bayern Munich and play for the A-youth squad for two more years. Despite heavy competition from Manfred Müller, Walter Junghans and Belgian Jean-Marie Pfaffhe, he was promoted to the senior squad of Bayern in 1982.
In his first two seasons in the senior squad he served as a reserve goalie but after Junghans and Müller left it was between Aumann and Jean-Marie Pfaffhe to challenge each other for the number one spot.
The competition between the two goalkeepers got so heated that at one point they got into a fight at a training session in 1984. Aumann eventually got the better of the Belgian and was selected to the first team of Bayern. He made his Bundesliga debut on August 25th in a 3-1 victory at Bielefeld.
Injuries mean major misses
Aumann suffered a major setback in November of 1985 when he tore cruciate ligaments in his knee. Due to the injury he missed the entire season and lost his place in the starting eleven at Bayern to Pfaffhe again. Even though he was just a reserve behind Bodo Illgner, he was also forced to miss the World Cup 1986 in Mexico in which West Germany finished as runner-up.
After Aumann's recovery from injury, Bayern again faced the same goalkeeper issue. In the summer of 1988, Pfaffhe decided to leave Bayern and Aumann was back at being the number one goalkeeper.
During his goalkeeper reign, Aumann was considered one of the best goalies in Germany. In the 1988/89 season, he set a new record of 17 matches without conceding a goal, a record which was broken by Oliver Kahn in 2002 with 19.
On September 6th 1989, he debuted for the senior team of West Germany in a 1-1 draw against Ireland. In the preparation for the World Cup 1990 in Italy, Aumann's string of brilliant performances at Bayern started a discussion about him being the number one goalkeeper of the national team.
After his two gala performances in the semi-final of the European Champions Cup against Milan, he was considered by many to be a better choice than Bodo Illgner at the time. But nevertheless, he was selected to the World Cup squad as a reserve behind Illgner and won the gold with the West German team.
Due to a serious knee injury in 1991 and disagreements with the head coach of the German national team Berti Vogts he ended his international career after playing only 4 matches. Andreas Kopke took his place and became the new number 2 goalkeeper behind Illgner.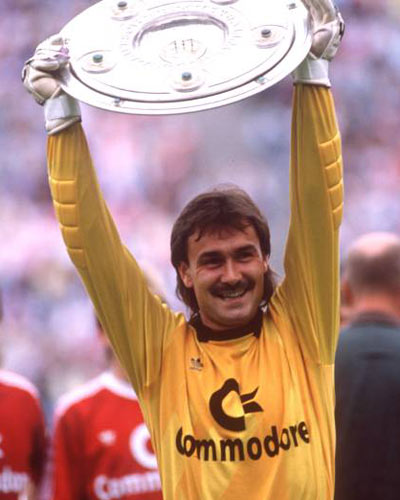 Major mistake and onto retirement
In that same year, Aumann made arguably the biggest mistake of his career. After losing 2-1 in the 1st semi-final leg of the European Champions Cup to Red Star, Bayern were up 2-1 in the away leg until Klaus Augenthaler scored an own goal in the 91st minute of the match which meant the Bavarians were eliminated. Aumann later confessed it was his mistake and took the blame for the own goal.
In 1994, after two years of being the captain of the team, Aumann decided to leave Bayern and join Turkish side Besikstas. He won the title with Besiktas in his first and only season with the team.
In November of 1995 he retired from football. He appeared in 216 Bundesliga matches for Bayern and became one of the best goalkeepers of the Bundesliga ever. In 1994 he was honored by being named the Goalkeeper of the Year in Germany.
Images from www.tagesspiegel.de, www.weltfussball.de
Alexander Zickler was born on February 28th 1974 in Bad Salzungen, Germany. He is a current football trainer and former German footballer most well known for playing as a striker at Bayern Munich.
Even though his career was slowed down by several injuries, including cancer, he is a great success story since his recovery in 2002. He has appeared in over 300 official matches for the Bavarians and won 19 major titles during his 12 years with the club.
The early successes of Zickler
Zickler starter his career at Dynamo Dresden after joining the club at only 6 years old.He would stay with Dynamo Dresden for 12 more years. He made his Bundesliga debut on October 23rd 1992, after coming on as a sub in a match against 1. FC Nürnberg. In his first Bundesliga season, he helped his club narrowly avoid relegation.
In the summer of 1993, Zickler moved to the German record champion club Bayern Munich for a fee of €1,1 million. At first he was only a reserve player, but Zickler rose through the ranks and made it to the first team in his second season.
His debut came on August 7th, 1993 against SC Freiburg in a Bundesliga fixture.
He proudly made his International Cup competition debut with Bayern against Twente In September of 1993. He took on the nickname of "Zico", and enjoyed both highs and lows as a player in European competition.
He played a major role in Bayern's UEFA Cup 1996 success with eight matches played and two assists.
Three years later came the lowest point of his career against Manchester United in the final of the Champions League.While it looked like a solid win, in almost an instant, the Red Devils shattered the dream of Bavaria with two last-minute goals to lift the trophy. Zickler played 71 minutes of the final.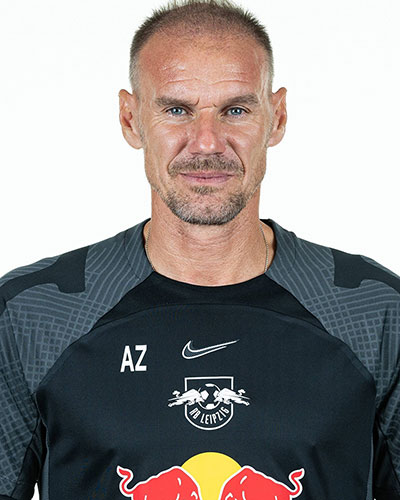 Zico's up and down career
Zickler made his international debut for Germany in November of 1998 in a 1-1 draw against the Netherlands. But between 1998 and 2002, he would only play in 12 matches for the Germans as various injuries stopped him from having any significant part in any major tournament for his country. His last international game was on October 11th, 2002 in a 1-1 draw against Bosnia and Herzegovina.
In the 2000 and 2001 season, he scored his most important goal for Bayern. On the 33rd Round of the Bundesliga season, he scored the winning goal against 1. FC Kaiserslautern in the 90th minute. This was a critical play as it helped Bayern stay top of the Bundesliga and eventually lift the title.
Zickler also played a part in Bayerns 2001 Champions League success by converting on one of the penalties against Valencia in the shoot out.
After a fairy tale ending to the season with Bayern, Zickler's injury woes started in the following year. He had to remove a tumor from his right shin after being diagnosed with cancer in 2002. Fortunately, he successfully recovered but was forced to miss the World Cup with Germany. After his recovery from cancer, Zickler suffered another setback with a break on the very same leg. Just a few days before the 2003/04 season, he suffered yet another shin break, which many believed put his career in serious jeopardy.
But Zickler bounced back and successfully overcame his injuries.He did losehis starting position at Bayern, which was the tipping point for him to move on.
Moving ahead for Zickler
In 2005, he signed a deal with Austrian side FC Red Bull Salzburg. Together with his former Bayern Munich teammate, Thomas Linke, he led the team to a 2nd place finish in the Austrian league with 9 goals in 31 matches. In the 2006/07 season he became the Austrian Player of Year. With 22 goals to his name, he led Salzburg to their first domestic title in 10 years.
After five season with Salzburg his contract was not extended. Zickler then moved to LASK Linz as a free agent where he would appear in 15 matches and score only one goal.
At the end of the 2010/2011 season he announced his retirement from football.
Zickler played in 384 matches during his career, 214 of those at Bayern Munich, and scored a total of 111 goals. He is currently employed as a assistant coach of the U-16 team at Red Bull Salzburg.
Images from worldfootball.net, weltsport.net
Johannes Christian "Hans" Pflügler, born on March 27th 1960 in Freising, West Germany, is a former German footballer best known for playing left or central defender positions at Bayern Munich. Having spent his entire career with the Bavarian club he became one of the most successful players by winning eight major titles with the team. He was also part of the World Cup 1990 winning West German side.
Hans – the go-to Sub
Pflügler started his career at a local youth club called SV Vötting-Weihen where he stayed for 8 years. At the age of 15, in 1975, he moved to the youth department of Bayern Munich where he would stay the next six years before signing a professional contract.
His debut with the senior squad happened in the 6th Round of the Bundesliga season in an away match against Eintracht Braunschweig on September 12th 1981. They were defeated 3-1, but Hans was subbed in for Paul Breitner in the 56th minute. During the same month, he also made his European Cup debut in a 5-0 victory over Swedish side Östers IF.
After a couple of matches where he was subbed in, he soon became a automatic first team choice for the Bavarians. Most notably he played in all matches during the 1986/87 season in which Bayern reached the European Cup final and eventually lost to Porto. Pflügler described it as one of the biggest disappointments in his career.
Pflügler also played for the national team of Germany.
He made his debut on March 25th 1987 in a friendly match against Israel. After a decent string of performances he was called-up for the UEFA Euro 1988 West German squad. During the tournament, in which the Germans reached the semi-finals, he appeared on the bench in two matches but failed to play in both of them.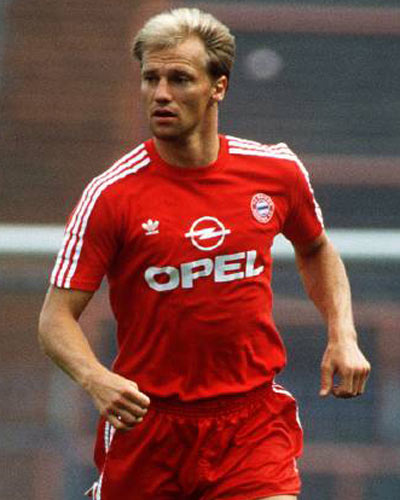 Hans' Finishes with an Impressive Career
The highlight of Pflügler's career came in 1990 at the World Cup in Italy. He was part of the West German side that won the World Cup for the first time in 16 years. He appeared in one match against Columbia on June 19th 1990 in Milan, in a match that finished 1-1.
After appearing in only 14 matches in the 1991/92 season he decided it was time to retire. However, a variety of injuries forced Bayern head coach Giovanni Trapattoni to call him up for a match in 1995 against Kaiserslauter on April 8th. Pflügler accepted the invitation and played his final match for the senior squad of Bayern Munich.
He continued on to play for the club's amateur squad up until the 2001/02 when he was 42 years old, helping them finish in 10th place in the Regionalliga Süd. Overall in his career he played in 372 matches for Bayern Munich and scored 46 goals. He also made 11 appearances for the German national team.
Pflügler, who owns a engineer diploma, is currently employed at his former club in the merchandising department.
Image from worldfootball.net
Klaus Augenthaler, born on September 26th 1957 in Fürstenzell, West Germany is a former German professional footballer and currently a football manager. Playing as a classic Libero throughout his career, he enjoyed great success with Bayern Munich and the German national team. With seven Bundesliga titles to his name he is one of the most successful players in Bayern Munich history. He was also part of the World Cup 1990 champion German squad.
Klaus rising in the ranks
Augenthaler started his career at a local youth club FC Vilshofen at the age of seven. At the age of 18 Bayern Munich assistant manager Werner Olk brought him to the youth department of the Bavarian club where he would spend one year before being promoted to the Amateur squad. After spending a year with the Amateur team he was promoted to the professional team by head coach Gyula Lóránt.
He scored the leading goal against Borussia Dortmund, Bayern went on to win 3-0. Augenthaler was one of the major reasons for the victory.
Between 1975-1976 he was involved with the DFB Youth Selection and played a total of 11 games. He made his debut on October 15, 1975, in Trelleborg in a 1-1 draw against the youth selection of Sweden. After playing ten more matches and scoring three goals he was promoted to the "B" team where he would play 8 times after which he was promoted to the senior squad. His debut for the senior team happened on October 5, 1983 in a 3-0 victory over Austria in Gelsenkirchen.
He got the nickname "Auge" because of the meaning of his surname "the eye" in German which also described his ability to read the action before it happened from the center half and libero position. Augenthaler captained Bayern Munich for a period of 7 years and during that time he was Bayern's main force in the defence.
Augenthaler's big wins
The most memorable goal he scored was in 1989 in a match against Eintracht Frankfurt. After beating Frankfurt's goalkeeper Uli Stein  with a shot from the halfway line, the goal earned "Goal of the Season" as well as "Goal of the Decade" accolades.
Augenthaler's finest moment came in 1990 at the World Cup in Italy as he was the member of the West Germany team that secured it's first World Cup championship in 16 years. In the same year, he lifted his seventh Bundesliga trophy with Bayern which made him the most successful Bundesliga player of all time. His record stood until Oliver Kahn and Mehmet Scholl broke it with eight German championship titles to their name.
Although Bayern enjoyed success in the Bundesliga, the team has failed to win anything meaningful in Europe during Augenthaler's time with the team. In 1982, they were narrowly beaten by Aston Villa 1-0 in the final the European Cup of Champions.
Five years later in 1987 against FC Porto, Augenthaler was forced to miss the final due to a suspension from the semi-final against Real Madrid. Without their main central defender Bayern lost 2-1.
Augenthaler's final attempt at European glory ended in a tragic way. In the 2nd leg of the 1991 Semi-final of the European Cup, he scored an own goal against Red Star Belgrade in the 90th minute which resulted in Bayern's elimination.
After playing in 404 matches for Bayern Munich and scoring 52 goals, he finally decided to hang up his boots in 1991. In the next 6 years he was assistant to a number of managers including Jupp Heynckes, Sören Lerby, Erich Ribbeck, Franz Beckenbauer, Giovanni Trapattoni and Otto Rehhagel. In 1996 he finished runner-up in the Bundesliga and won the UEFA Cup.
A call for coaching
On May 18th 1996, Augenthaler became the first ever Bundesliga coach to make 4 substitutions in a single match. While replacing head coach Franz Beckenbauer in a match against Düsseldorf, Augenthaler subbed in three players and replaced goalkeeper Michael Probst with Oliver Kahn. The match ended in a 2:2 draw and Bayern Munich escaped without a fine.
Ottmar Hitzfeld's appointment as head coach of the team in 1998 resulted in Augenthaler's departure from the team as he was convinced by the Bayern board to take a Head Coaching job somewhere else. He took over Austrian side Grazer AK and finished 3rd two times in his three year stay.
In 2000 he was appointed head coach of 1. FC Nürnberg and lead the team to Bundesliga promotion in his first season. However, he was sacked in 2003 after the club was facing relegation.
The following four years he was involved with two Bundesliga clubs – Bayer 04 Leverkusen and VfL Wolfsburg. In the two years spent with Leverkusen he managed a 3rd place position and a Champions League birth.
His time at Wolfisburg was marked by a press conference on May 10th, 2007 held before a Bundesliga match against Aachen. Augenthaler completely ignored reporters and answered four questions that he came up with. The press-conference ended after 42 seconds. Without much success, he left the team on May 19th, 2007 by mutual agreement.
Augenthaler's latest job was with third division side SpVgg Unterhaching in 2010/11. After saving the club from relegation, his contract was not renewed at the end of the season.
Image from fcbayern.com
Josef Dieter Maier, known as Sepp, was born on February 28, 1944 in Bavaria. He is a former German legendary football goalkeeper.
Declared by many as the best German goalkeeper of all time, he was part of Bayern Munich's golden generation which featured Franz Beckenbauer, Gerd Müller and Karl-Heinz Rummenigge. A World Champion with West Germany in 1974, he collected 95 caps for his country and is the record holder among goalkeepers even today.
The makings of a goalkeeper
Maier actually started his career as an attacker at the local club of TSV Haar at the age of 8 years old. But after a "you're the laziest, you're the fattest – you go in goal" speech from his coach he switched positions and became a goalkeeper. And a legendary career was born.
In 1958, his family moved to Munich and Maier was tansferred to Bayern where, it turned out, he would spend his entire career and become one of the key players of the best generation in the history of Bayern.
He signed his first professional deal with the senior squad four years later.
At the start of the 1963/64 season, he replaced Fritz Kosar as the first team goalkeeper. With him as the goalkeeper, Bayern began their rise and were promoted to the Bundesliga in 1965.
Success with Bayern earned him a call up to the national team as he was selected as a back-up to Hans Tilkowski at the 1966 World Cup in England.
Maier finally became the goalkeeper of the national team at the World Cup in 1970, which took place in Mexico. After making several key saves and helping his country reach the semi-finals he was unable to stop the Italians in the legendary 4-3 defeat. He didn't take part in the match for third place as Germany defeated Uruguay 1-0. Theyended up taking home the bronze medal.
Sepp's rise to the top
The 1972 European Championship marked the start of the best years of Maier's career. West Germany took their first ever European title after a convincing 3-0 win over the Soviet Union. It was the first and only European crown in Maier's career, he also finished runner-up four years later as the defending champions West Germany lost on penalties to Czechoslovakia.
Two years later the Germans became the highlight of Maier's career. West Germany hosted the World Cup and won their first title in 20 years with Maier playing one of the key roles in the success.
Maier's international success was followed both by individual and club awards as well. Bayern won three straight European Cups (1974, 1975, 1976) in what was arguably the most successful decade in the club's history. On a individual level, he was named European footballer of the Year three timesand was on paar with Italian Dino Zoff and Englishman Gordon Banks as the best goalkeeper in the World.
Often an entertainer on the field as well as a competitor, after his team was awarded a penalty in a match against Bochum, he celebrated by chasing a duck which inadvertently made it to the field. His agility and athleticism earned him the nickname "Die Katze von Anzing" which stands for "the Cat from Anzing".
From a player to a coach
Initially he planned to play until the age of 40, but his career came to an abrupt end at the age of 35. In 1979, he was involved in a car accident in which he suffered several career-ending injuries. Prior to his injury he often joked he would "play with Franz [Beckenbaur] and Gerd [Müller] as long as they can push him on the pitch in a wheelchair" but the accident changed his plans for good. After he recovered from his injuries, he went on to become a Goalkeeper Coach both at Bayern and the German national team. He is also active as the ambassador for the German Jose Carreras Leukemia Foundation.
Maier's football legacy was completed after he was named "German Goalkeeper of the Century" by the IFFHS.
He will forever be remembered for wearing his over-sized gloves as well as the silverware he collected during his almost 20 year career. He has made 536 appearances for Bayern Munich, as well as 442 consecutive
Images from fifa.com